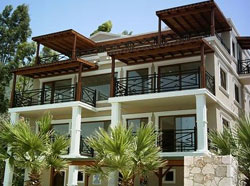 Kartal (a prime area) is a high-class residential area far from the city centre. Lying along the shores of the Marmara Sea, it has many luxurious beachfront properties that are much favoured by Istanbul's elite. There are also apartment complexes here. Because of the rising population, much of the high ground inland is now being turned over to housing development.

Despite the fact that Kartal is far from the commercial centres of Istanbul, residents have a lot of transportation options—one of the reasons why it appeals to so many as a residential district. It can be reached by the E5 Highway and the Trans-European Motorway, and by ferry from Adalar and Yalova. It is also less than 10 kilometres away from the Sabiha Gökçen International Airport. Commuter rail systems are also being developed.
Another anticipated development for the district is the "green city" program for the Kartal-Pendik area, also known as the Kartal Urban Transformation Area. The internationally renoqned architect Zaha Hadid is undertaking the project. Lavish residential areas, concert halls, theatres, museums, docks, and hotels will be built here during the next two decades. The development will include office and residential towers, parks, restaurants, cultural centres and a marina. By 2020, the district is projected to be the new cultural and industrial centre of Anatolia.
As of now however, its structures are limited to restaurants serving traditional Turkish cuisine and shops that sell clothing and furniture. There are also some civil buildings and well-known schools, including the German-language Kartal Anadolu Lisesi.
---