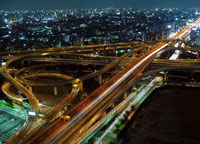 Karnataka has a diverse landscape from the coastal Karavali area, to the hilly country of the Malnad region, to the flatlands of the vast Bayaluseeme region on the endless Deccan plateau.

Karnataka is rich in natural beauty, with some popular beaches, 25 wildlife sanctuaries, five national parks, and amazing waterfalls, including India's highest one-tiered falls, Jog Falls.
Karnataka was home to the Western Chalukyas empire, and the Vijayanagara empire (14th - 16th century), which resisted the Muslim advance. This history left thousands of monuments, many now nationally protected sites. Especially fascinating are Badami's cave temples and Aihole's rock-cut temples. Also impressive is the monolith of Gomateshwara at Shravanabelagola, the world's highest sculpted monolith which draws innumerable pilgrims.
Culturally, Karnataka has a vibrant theatre tradition (classical examples being the Yakshagana school), and thriving classical music genres, such as the Haridasa movement, and Garnaka.
Since the 1980s, the state has emerged as India's IT leader. It has many of India's premier science and technology research centres, and as a result, two of India's biggest software firms, Infosys and Wipro are headquartered in the state, and it accounts for 38% of all IT exports from India.
Karnataka has the 6th highest per capita income among Indian states. It is a hub for large public sector industries, including Hindustan Aeronautics, National Aerospace Laboratories, Bharat Heavy Electricals, Indian Telephone Industries, Bharat Earth Movers Limited and Hindustan Machine Tools, which are all based in Bangalore.
Bangalore
Bangalore (pop: 5,500,000), Karnataka's sprawling capital, is the country's number one employer in IT.
As well as being the Silicon Valley of India, Bangalore is a green city, called the Garden City of India, and the "Air Conditioned City" because of its year-round cool, pleasant climate. The rain during summer, and specially the winter monsoon, cleanses the city, which is increasingly polluted.
Achievement-oriented, individualistic, technologically-informed, Bangalore is the place to see modern India at work and play (another moniker is the Pub Capital of India.)
Bangalore's population is rapidly increasing, due to the IT boom.
---