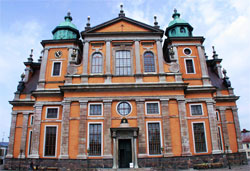 Kalmar County reigns administratively over the eastern portion of Småland province and the island of Öland.

The city of Kalmar is small and rich in history, with a beautifully preserved Renaissance-era fortress that dominates the city's beautiful harbour. Not far away is the town's historical quarter, which has preserved much of its Old World charm.

Kalmar is connected to Öland by one of Europe's longest bridges. The island is a lovely place to visit, with its beaches, its castle ruins, and its Viking village. But it is best known for the Stora Alvaret, a limestone plain where a host of endangered species and a great variety of vegetation can be found.
Main industries in Kalmar include manufacturing and trade, and the last decade has also seen a boom in various fields, including the automotive, design, and environmental engineering sectors. Kalmar County's well-paved roads and extensive transportation system, which includes rail and air transportation, make it a prime destination for business and property investment.
---