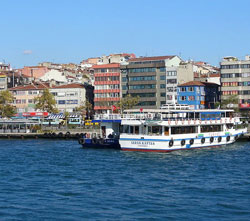 Kadıköy (a prime area) is a large commercial district lying on the Anatolian side of Istanbul. Occupied mostly by students and merchants, the place has some of the most attractive shopping areas in the city, from malls to street bazaars like the Salı Pazarı Tuesday Market to Turkey's biggest fresh market.

Kadıköy also has strips and alleyways crowded with street vendors selling discount clothing and pirated goods. At the back of its main post office, there are also some bookshops, craft shops, emporiums, and stores that sell music CDs, film posters and shirts.
This district is the transport hub for those travelling around the city. It has a big bus terminal and busy ferry docks near the central market area.
Kadıköy is also largely residential. Adjacent to the shopping areas are the towns of Hasanpaşa and Fikirtepe, where public housing buildings and apartments are home to a diverse population with different ethnic backgrounds. Though some of the buildings are slightly dilapidated, many are also modern and well-maintained.
Icerenkoy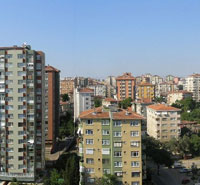 The neighbourhood of İçerenköy is home to middle-income residents, many of whom cross the Bosphorus Bridge everyday to their places of work in Istanbul's European side. There are some mass housing projects here.

The posh Green Park Hotel is not far from the popular İçerenköy shopping mall, the first Carrefour shopping mall in Turkey. The headquarters of many international and local companies can also be found in the neighbourhood.
Kozyatagi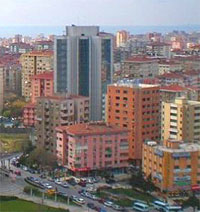 The district of Kozyatağı in Asian Istanbul is a fast-developing business region, with several multinational companies having their headquarters or offices here. Its business and trading centre is Ataşehir. Largely undeveloped until the late 1990s, Ataşehir now has continuously ongoing modern luxury housing development. More affordable studio apartments are available, and popular among university students.

The neighbourhood is designed for high-rise apartment buildings, not single-family housing units. About 18,000 high-rise luxury condominiums were initially planned around the main boulevard, Ataşehir Bulvarı. As of 2006, more than 8,000 units have already been finished.
New projects in the neighbourhood are Kentplus Ataşehir, a complex that includes more than 2,000 apartments, playgrounds, a shopping mall, a restaurant, and a bank; and the two-building, 25-storey Ataşehir Residence.
Ataşehir has primary schools, a high school, a supermarket, shops, cinemas, theatres, sports centres, tennis courts, and gyms, though incomparable in scale to those in Bahçeşehir, another satellite neighbourhood in Istanbul. The downside of the area is its lack of car parks and its limited public transport.
Fenerbahce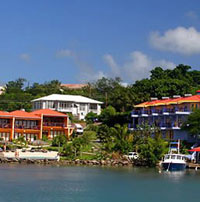 Fenerbahçe is a long-established, upmarket residential neighbourhood in the Kadıköy district, Restaurants, bars, and cafés range along its attractive seafront. The neighbourhood's name means "lighthouse", and there is a famous lighthouse on the cape, built in 1857 during the Ottoman period. Fenerbahçe in turn lent its name to a professional sports club, Fenerbahçe S.K. Fenerbahçe's famous football team, affectionately called "Yellow Canaries" is one of the top three teams in Super Lig, Turkey's top league.
Moda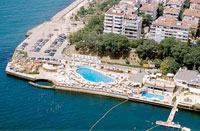 Moda is a long-established, affluent neighbourhood in Istanbul's Kadıköy district. Old houses and run-down shops along its narrow streets give it an authentic, small town atmosphere.

In the past, Moda was home to many Greeks and Armenians. They were followed by a huge community of rich Levantines, from which the area got its name (Moda means "fashion). In those days, the sea was not as polluted as it is now, and Moda Beach was a popular place to be during summer. Turkish fishing boats called caïques were moored in its historic dock, and people swam around them.
The beach has been recently spruced up. Unfortunately, what used to be the shore is now a coastal road and a harbour. Its redeeming factors are the plentiful restaurants, cafés, ice cream parlours and tea houses that have great views of Kalamış Bay and the Marmara Sea.
Moda has schools, churches, playgrounds, tennis courts and a theatre. Despite some residents' resistance to change, its facade continues to change. Old buildings are demolished in favour of modern apartment blocks, and residents are faced with a new problem: lack of parking space.
Bagdat Avenue/Bagdat Caddesi/Baghdad Avenue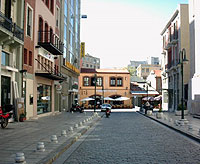 Bağdat Avenue is a very famous street in Kadıköy, with department stores, shopping malls, boutiques, restaurants, cafés, pubs, banks, and car dealerships down its length. The one-way avenue extends from Bostancı to Kızıltoprak, lying almost parallel to the Marmara coastline. Facing the sea are parks, bars and cafés.

Once notorious for street racing, the avenue is a magnet for young people, shoppers and tourists, and becomes particularly congested with pedestrian and vehicle traffic on weekends and in the summer. The fashion area between the affluent neighbourhoods of Suadiye and Caddebostan is usually the busiest and most crowded.
Other upscale localities surrounding Bağdat Avenue are Kalamış, Göztepe, and Erenköy, where  summer mansions used to stand, but have now been replaced by modern apartment buildings. The neighbourhoods are still considered beautiful, though, and highly desired.
Bostancı is a crowded intersection which serves as a transport point for trains, city buses, sea buses, ships, and dolmus. It's a lot less glamorous here, with narrower apartment buildings housing working-class residents.
The public festivities held on Bağdat Avenue are the Republic Day cultural parade held every October 29th and the grand celebration of the home football team Fenerbahçe SK when it wins the championship title.
---