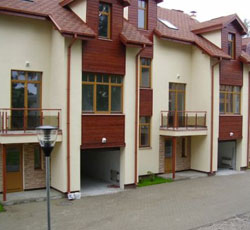 Jūrmalas name means "seaside" in Latvian, quite fitting for a resort town. During the era of Soviet occupation, Jūrmala was the favoured vacation site among high-ranking Communist Party members, including Brezhnev and Khrushchev. Jūrmala's fine white sands stretch far out along the Gulf of Riga. It remains a popular tourist attraction to this day; vacationers flock here to enjoy what is said to be the longest beach on the northern side of Europe.

Jūrmala is also a place of great architectural charm. It has many wooden houses dating from the late 19th and early 20th centuries exhibiting a variety of styles, including Classicism, National Romanticism, and Art Nouveau.
Jūrmala is very much a tourist mecca, with its numerous hotels and guesthouses, and its attractive restaurants and cafés many found along the Jomas street promenade. Lovers of the outdoors can go hiking in Kemeri National Park and Ragakapa Nature Park. Another Jūrmala attraction is Livu Akvaparks, one of the biggest water fun parks in the Baltics.
The resort town is easily accessible from Riga. Only 25 km west of Riga, Jūrmala can be reached in around 20-40 minutes by taking a train or bus, or by driving there on the highway.
---