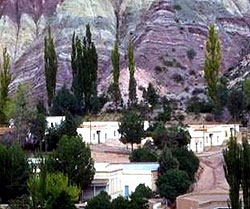 Jujuy is divided into three main areas: the high plateau of Altiplano, covering most of the province, the Quebrada de Humahuaca canyon through which the Grande River of Jujuy passes, and the sierras descending into the Gran Chaco Region. These changes in altitude provide the province with a variety of climates and have produced the desert areas of the Salinas Grandes salt mines and the subtropical Yungas jungle.

Jujuy's economy is still underdeveloped, although it is being propelled by its sugarcane industry, mining and petroleum extraction activities, salt production, and paper manufacturing. What the province is mostly known for, though, is its reputation as a bastion of South American indigenous culture. The Quebrada de Humahuaca has been the home of Argentina's first inhabitants for over ten thousand years; it has been named a World Natural and Cultural Heritage site by UNESCO.
The aboriginal culture of the Aymará and Quechua groups are alive here, and many tourists also come to admire the well-preserved Incan ruins as well as the many small towns steeped in local colour. Most travellers arriving from the Horacio Guzmán International Airport begin their trips in the capital, San Salvador de Jujuy .
San Salvador de Jujuy
San Salvador de Jujuy is the culturally rich capital and administrative centre of Jujuy Province. It bears the nickname "La Tacita de Plata", or the Silver Teacup—because the city is surrounded by mountains that go up around it like the sides of a cup, and because silver is mined here. The Quechua, Aymara and Chiriguano peoples predominate in the city's population.
Jujuy, as the city is often known for short, sits at the junction of two rivers. While it is steadily modernizing and expanding, there are still a few colonial-era buildings in Jujuy's busy downtown, including the wooden-roofed Santa Bárbara Church (the province's oldest church), the Cabildo (town hall), the Governor's Mansion and the city cathedral across Jujuy's main square, the Plaza Belgrano.
 
The hot springs of the town of Termas de Reyes are only a few kilometres west of the city. And just north of Termas de Reyes are another natural attraction: the Lagunas de Yala, a cluster of five lagoons that are part of the Potrero de Yala National Park.
---