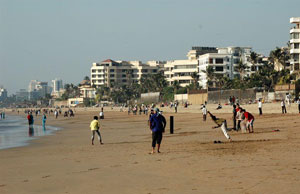 Juhu is a suburban neighbourhood of western Mumbai, famous for its sprawling beach, the Juhu Beach. It is one of Mumbai's more affluent areas. Many Bollywood stars own bungalows in Juhu, as do many industrialists, musicians, entertainment stars, fashionistas, cricket stars, financials and other wealthy people.
The nearest railway stations are Santacruz, Andheri and Vile Parle.
Juhu Beach is Mumbai's most famous beach. There are three main entrances to the beach. One is from the Vile Parle side, another is from the Santacruz side and the third one is from the Andheri side.
Many tourists make it a point to visit the beach when they come to Mumbai, as it is relatively uncrowded, although it does get crowded in the evenings and weekends.
On the southern end of Juhu beach there are many luxury hotels and apartments. During the summer vacations, children often come to play games such as cricket, football, or basketball.
---