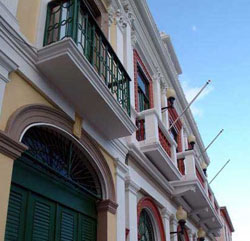 Juana Diaz is called the City of Kings and Poets because of the many famous leaders, writers and poets who were born in the town. It is also a leading producer of sugarcane and beige marble, which is one of the finest, most in demand types of marble in the world.

The town, however, is most famous for its veneration of the Three Kings. In fact, Juana Diaz has also come to be known as the Bethlehem of Puerto Rico.

Every January 26, the town holds a Three Kings Festival which features a colourful reenactment of the Nativity and the visitation of the Magi. They even have two monuments and a museum in their honour in Juana Diaz.

One citizen of the town has taken his love for the Nativity a grand step further. Dr. Enrique Marrero's favourite hobby was making nativity sets for in the family home on Mariano Abril Street, carving each piece from gypsum and fibreglass. As the years passed, Dr. Marrero's collection grew until he has completed a 40-foot scale model of the town of Bethlehem, complete with buildings, houses, oceans, townspeople, shepherds and their flock and, of course, the Holy Family and the Three Kings. In the end, the good doctor made the decision to open his home to the public so that they could view his truly wondrous creation.
Juana Diaz is also famous for Lucero Cave, which contains cave drawings and petroglyphs by prehistoric Indians. At present, stern measures are being implemented to preserve the site from damage caused by nearby mining activities and vandals.
---