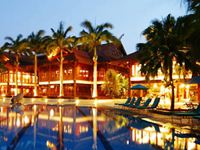 Once called "Land's End", Johor lies at the southernmost end of the Malay peninsula. Its coast reaches from the Straits of Malacca, to the South China Sea. The state has just over 3 million inhabitants.

Johor has 5 national parks and some of Asia's oldest rainforests, including Malaysia's third biggest mangrove forest, and one of the world's largest orchid farms. The state has around 30 golf courses, while its eastern offshore islands offer great scuba and snorkelling attractions, as well as pristine beaches for lazing and sunbathing.
This is one of the few Malaysian states that offer agro-tourism, including homestay programs for a highly personal experience in one of the many plantations producing rubber, palm oil, coffee, fruit and tea (JB has the only lowland tea plantation in the country).
The name Johor is based on the Arab word for "gem". Early Thais called it gangganu, "precious stone", probably because Johor was an important trading centre for spice, a most valuable commodity.
The sultanate in Johor was established in the 16th century, when the son of the Sultan of Melaka escaped from the Portuguese invaders of his father's sultanate. His empire however would later be overrun by other neighbouring invaders, such as the Bugis people of Celebes.
Mainland Johor  came into the control of the Temenggong family in the mid-19th century. The beloved "father of modern Johor," Sultan Abu Bakar, descends from this family. The state joined the Malaysian Federation in 1957.
Of its eight districts, Johor's biggest is its capital, Johor Bahru, or JB as the locals call it. An industrial city, JB has many factories, mostly making electronics, and serves as Malaysia's portal to Singapore, which can be easily accessed by rail and by road.
Johor benefits greatly from its proximity to Singapore. Many Singaporeans and Singapore's huge expatriate community often visit JB, and keep weekend homes there. Some even choose to reside in JB, where prices are more affordable, and work in Singapore.
Its most popular resort is at Desaru, which has a 25-kilometre-long beach facing the South China Sea.
JB is home to the splendid 19th century Royal Palace Museum, established by Sultan Abu Bakar, an interesting mix of Malay and British architecture. JB also has one of Malaysia's most attractive mosques, the late 19th century Sultan Abu Bakar Mosque, again a well-done combination of Victorian and Moorish architecture. On a hilltop, it provides a magnificent view of JB and the Straits.
JB is being increasingly urbanized as part of an ongoing major development project of the sultan, called Iskandar Malaysia. The modern city of Nusajaya to the east will eventually become Johor's new administrative capital. Nusajaya and JB are being integrated to become the economic rival of Singapore.
---