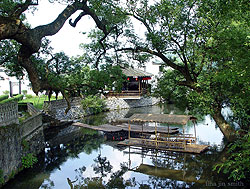 Jiangxi is famous as the porcelain capital of China—and the cradle of the Chinese revolution. Its historic capital Nanchang is both fast-paced and pastoral, still home to numerous villages time-locked in old Chinese ways. These ancient picturesque villages decorated with sparkling rivers and rustic stone and wood bridges are some of the most delightful traditional towns of their kind.

Located on the lower part of the Yangtze River, Jiangxi is home to Poyang Lake, China's largest freshwater lake.

Jiangxi lies on China's most important watershed, and provides much of the nation's potable water. Vast networks of waterways, rich forests, and the rise and fall of many hills and mountains; Jiangxi's landscape is jaw-droppingly beautiful.
---