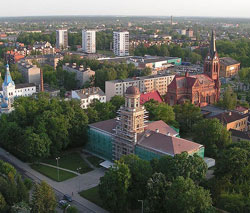 The Jelgava District in central Latvia is an area rich in notable historical and cultural attractions. Here, the families of the Dukes of Courland and Baltic German nobles left their mark in the form of 18th- and 19th-century manor houses in the parishes of Eleja, Lielplatone, Vircava, Vilce and Zaļenieki. The Green Manor in Zaļenieki was built for the Duke of Courland and designed in late Baroque style.
Ložmetējkalns was the site of a significant World War I battleground in which the Latvian Riflemen broke through the frontline defenses of the Germans. The site now houses the Christmas Battles Museum, which features a reconstruction of the Germans' field fortification system and an exhibition dedicated to the Christmas Battles of Latvian Riflemen.
Valgunde parish is the site of a Russian Orthodox Convent for women. The simple, charming monastery is one of the few that survived the period of Communist rule.
Ozolnieki
Ozolnieki, a village by the Iecava River, is known for its goat dairy products and water-skiing facilities.
---