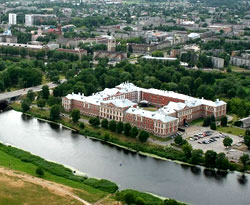 The central Latvian city of Jelgava is the largest town in Zemgale. Lielupe, the second-largest river in Latvia, flows right through the city. This is reflected in the city's name, which is thought to come from "jelgab," a Livonian word that means "city on the river."

In 1772, the architect Francesco Bartolomeo Rastrelli finished construction on a palace for Duke Ernst Johann von Biron, arguably the city's greatest cultural patron. The blue and white Baroque-style palace may call to mind the design of the Winter Palace in St. Petersburg, another work by Rastrelli.
Buildings dating from the 18th and 19th centuries can still be found in the Old Town of Jelgava, located at the intersection of Dobeles, Vecpilstas and J. Asara Streets. St. Trinity, the first church built in Europe by the Lutherans, was mostly destroyed during World War II; only the tower remains.
Jelgava has a reputation for being a students town. It is the educational centre of Zemgale, and home to the legendary Petrina Academy and the prestigious Latvia Agriculture University. The city's annual student population numbers in the tens of thousands.
Jelgava is the site of Latvia's only inland maritime harbour. It is the main industrial centre of the country's Zemgale region.
---