The Jekabpils District is found in the Latgale region, bordering Lithuania to the south. It is composed of three cities and 21 parishes. The district centre is the city of Jekabpils.
Jekabpils City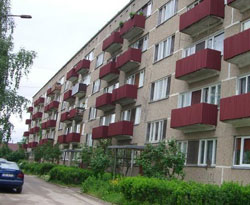 The present Jekabpils City was formed in 1962 through the joining of two much older cities: 800-year-old Krustpils and 330-year-old Jekabpils that faced each other across the Daugava, the great "River of Fate."

Krustpils is notable as the site of the medieval Krustpils Castle, built in the 13th century on the decree of the Bishop of Riga, Nicholas de Magdeburg. Krustpils, or the Castle of Cross, was partly destroyed in later years, but a new castle was created using the older walls in the early 18th century. The rebuilt castle features Baroque-styled towers on its corners, enclosing a medieval castleyard.
Old Jekabpils traces its origins to the early 17th century, when it arose along the left bank of the Daugava River. Then called Sala's inn, it was a settlement of Russian Old Believers who had fled from persecution in their homeland. The settlement quickly grew, as it was the last main stop on the Daugava River barge route due to rapids, barges had to stop at the settlement in order to transfer their cargo onto wagons. It earned city status in 1670 and was dubbed Jekabpils (Jakobstadt) in honour of its founder Jacob, the Duke of Courland.
Jekabpils still retains a lot of quaint and lovely architecture. You will find many single-storey wooden houses dating from the 19th century, as well as red brick houses with lavishly-decorated facades dating from the late 19th and early 20th centuries.
The city has a strategic location, standing at the crossroads of the Latgale, Vidzeme, Zemgale, and Selija regions of Latvia. Its population numbers around 26,000. Besides its Latvian inhabitants, it also has significant Russian, Ukrainian, Byelorussian, Polish, Hebrew, and Roma communities.
---