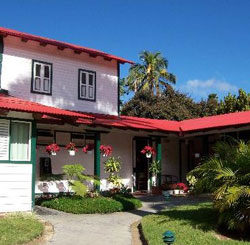 Another noteworthy town in the Central Mountain Range is Jayuya. Like Ciales, Jayuya was a former Taino settlement, the most site of which is in the Tres Picachos Hills. At present, it is a valuable archaeological location rich in relics and body remains. These are all currently being displayed in the Cemi Museum. The museum itself is unique because it was built in the shape of a Taino religious figure.

Not far from the Cemi Museum is the Casa Canales Museum. Originally a house built in the 19th century by one of the town's founders, it is a museum with a collection of artefacts that reflect the society, culture and traditions of Jayuya and Puerto Rico as a whole towards the end of the 19th century.

There are also a few inns and guest houses in this mountain town. Parador Gripiñas, in particular, gives guided tours to visitors, which consists of a trek through a coffee plantation that offers scenic views of the region.

Near Jayuya are Cerro de Punta, Puerto Rico's highest mountain peak, and the Toro Negro Forest Preserve. Because of the dense forests here, many of the town's residents are master woodcarvers.
Many visitors take a boat out to the Written Stone, which is located right in the middle of Coabey River. The stone is covered with drawings, petroglyphs and images that have been carved by Prehistoric Indians.
---