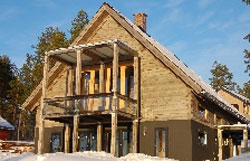 Consisting mostly of highlands, this län, or county, encompasses the provinces of Jämtland and Härtjedalen, as well as the parts of Hälsingland and Ångermanland that are not under the jurisdiction of Västernorrland.

Jämtland is scarcely populated, with the majority of the residents living in the countryside, mostly in the Storsjöbygdden area by Lake Störsjön. A lot of cultural and traditional activities take place in this area. In the summer, tourists can visit the dairy farms dotting the countryside.

The main town here is Svenstavik. The most famous resident of the area, though, is not human and probably not even real. The lake is said to be the home of the legendary lake monster Storsjöodjuret, a sort of Swedish cousin of the Loch Ness monster. There have been periodic sightings of it since the 17th century.
Jämtland is a land-locked province, though with expansive valleys that reach the Norwegian Sea, connecting Jämtland to the west. Large streams, such as Ljungan and Indalsälven, come from the Scandiavian Mountains and trickle down to various lakes. Jämtland is generally a highland region, with its lowest point still rising 35 meters above the sea. Its highest peak is Storsylen, soaring 1,728 meters above the water.
The province of Härjedalen, which consists mostly of highlands, has only one town, Högvålen, the highest village in Sweden.
---