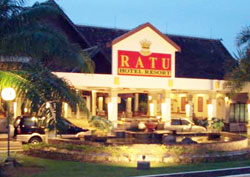 A third of Jambi province is covered by the Barisan Mountains. These mountains are riddled with a few volcanoes, such as Mount Masurai and Mount Sumbing. Mangroves, and lush green forest filled with pine, alder, maple and ash make up the rest of the province's topography.

The provincial capital has the same name as the province. Jambi City is easily accessible and has a large rubber-processing centre. Jambi's river port is one of the busiest on Sumatra.
Jambi City
The port city of Jambi, which lies around Batanghari River, is capital of Jambi province in Sumatra Island. It thrived in the pepper trade in the 17th century and now plays an important part in the timber industry. Jambi City serves as a transit point to the nearby national parks, such as the Kerinci Seblat National Park covering virgin rainforests and the Lake Kerinci, and Bukit Duabelas Nature Reserve which protects an abundant wildlife.
Jambi City's most important archaeological site is the Muara Jambi Temple along the Batanghari River, believed to be built in the 14th century.

The Port of Jambi
The historic Port of Jambi, located in Batanghari River, boasts Sumatra's largest Buddhist complex, the Muara Jambi. The temples Gumpung, Kedaton, and Tinggi have been completely excavated.
The Port of Jambi was the capital of the Buddhist Empire Srivijaya, which flourished from the 7th to the 12th century. It engaged in trades with other kingdoms. In the 16th century, it became a Muslim state, and in the early 19th century, was brought under Dutch rule.
At present, the Port of Jambi serves as the region's trade centre for oil, timber and rice, and the import of consumer goods and industrial materials.
---