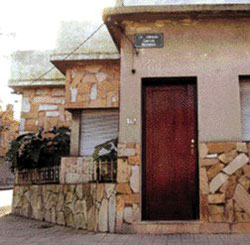 Located in the heart of Montevideo, Jacinto Vera was named after the first bishop of the city. It is under the jurisdiction of the 13th Police Station of Montevideo and integrated into Comunal Zonal No. 3, together with neighbouring barrios Reducto, La Comercial and Goes.

Jacinto Vera is a middle-class residential neighborhood, with a few warehouses that used to be part of the area's industrial sector.
Sites of interest in Jacinto Vera are the Iglesia San Antonino and the offices of the Ministries of Transportation and Public Heath. The neighborhood is also of historical significance because the old Vidal Bakery was once the meeting place of the independistas prior to the installation of José Gervasio Artigas as the leader of the Orientales.
The barrio of La Figurita was named after a small terra cotta figure sitting on the roof of an old tavern that was once a stop for carts and carriages coming in and out of the colonial walled city of Montevideo. The area is now where the streets Gral Flores and Garibaldi are today.
La Figurita is noted for the colonial architecture of its houses and the beautiful La Iglesia del Reducto. It is also the home to two sports clubs.
---