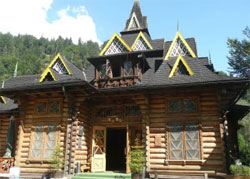 Mt Hoverla, Ukraine's highest peak, towers over the largely forested oblast of Ivano-Frankivsk. The oblast is a beautiful combination of mountains, hills and plains. The slopes of the Carpathians are covered in snow for up to five months a year—perfect for skiing.

Ivano-Frankivsk's natural scenery and continental climate make it an ideal year-round vacation and recreation spot as well as a place for treatments. There are several hotels, sanatoriums and resorts that offer climatic and mineral therapies. Yaremche is a top ski resort that is also known for its sanatoriums and recreation centres.
The oblast has many architectural and historic treasures, including the distinctive churches of the Hutsul people, the 12th century St. Pantelimon Church and the 17th century monastery Maniavskyi Skyt.
Ivano-Frankivsk City
Ivano-Frankivsk City is the administrative centre of Ivano-Frankivsk oblast in western Ukraine. Once called Stanislaviv, it was renamed in 1962 after the famous writer Ivano Franko, a champion of Ukrainian culture and language.
The city's industrial economy has improved much under the more open Ukrainian government. Its food processing, light engineering, chemical processing and furniture-making industries flourish. It has medical schools and training institutes for workers in the oil industry.
The city's overall ambiance is much more pleasant now, with its many brightly-coloured neoclassical buildings, beautiful gardens, and tree-lined walkways. As an entryway to the Carpathian resorts, it offers efficient public and tourist service and great food.
Cultural revival continues in Ivano-Frankivsk, and every year the city hosts lively festivals and concerts that commemorate folklore and art.
There are attractive sites in Ivano-Frankivsk, such as the Shevchenko City Park and Lake, the White House, the three main churches, and the market place. The city's main street is the pedestrians-only Nezalezhnosti, which has many restaurants, cafés, and bars. Halytska is popular for its numerous shops and luxury apartments.
---