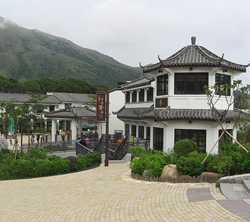 The Islands District (a prime area) is the largest and the least populated district in Hong Kong. Its 20 large and small islands still have a rural flavour, though there has been significant development here over the years. What used to be simple fishing villages on the coast are now towns that support the fishing industry with dormitories, net and shrimp paste manufacturing and similar activities. Most of the islands can be reached by regular or high-speed ferries as frequently as every 15 minutes. Beaches and parks dot the coastlines.

Lantau is the biggest island and it is connected to the mainland via MTR and a dramatic suspension bridge. It has the Chep Lak Kok International Airport is and Hong Kong Disneyland. Overlooking the whole island in the Ngong Ping highland is the bronze Tian Tan Buddha. It is also affectionately known as the Big Buddha, being about 10 storeys high. It can be reached by bus or by cable car and has become a big tourist attraction.
The serene hilltop area also houses a working monastery, a shopping and eating plaza and a few private homes. To the south, the small fishing village of Tai O, with its ramshackle stilted homes and boat houses along canals, is both a fish processing area and a tourist attraction.
In contrast, Discovery Bay is an exclusive, mainly international residential enclave with three country clubs, a boardwalk and main plaza. Private motor vehicles are banned here. The ferry from Central only takes 25 minutes to get here.
Along the coast, the quaint village of Pui O is a vacation destination for locals. It has a campsite and seasonal rental homes near a long beach facing the sunset.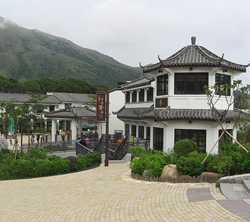 Lamma is the next biggest island and has two main villages. Buildings higher than three storeys and private motor vehicles are banned here, so the communities are quiet and rather charming. Many people who live here commute to Hong Kong or Kowloon to work. While mostly locals live here, some expatriates have moved here as well.

The main power station of Hong Kong is on Lamma. Its chimney stacks are visible from all points, but this doesn't seem to bother the residents.
In the small island of Cheung Chau, two- and three-storey row houses with flowering plants on their balconies flank narrow pedestrian streets. Only small vehicles can go around here. Beaches and rocky points surround the island. Four local schools serve the area and many who live here commute to the city. This is a quiet community of locals, but the annual week-long Bun Festival attracts many visitors with its procession of costumed children on impossibly tall stilts.
---