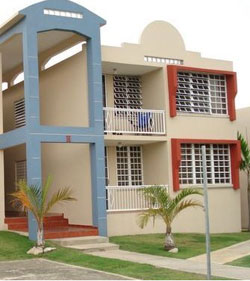 The coastal town of Isabela has several manufacturing and electronic plants, a world-famous agricultural centre, and a major shopping mall, Plaza Isabela.

It has many scenic beaches, one of which is Playa de Jobos, popular with tourists who like windsurfing and kite-surfing. The town is near mountains, rainforests, lakes and rivers. There are also a number of caves, subterranean rivers and archaeological sites to explore.
While the town is noted for its surfing beaches, it is also the centre of cock fighting on Puerto Rico. Its cockfighting arena, the Gallera, holds fights every Sunday morning. So great is the fascination of the townsfolk over the sport that the local basketball team is called Gallitos de Isabelos.
Isabela also made headlines in September 2006, when a local diver spotted wreckage from an ancient Spanish galleon. The discovery has sparked a media frenzy that has lured treasure hunters from all over the island in hopes of finding the shipwreck and any treasure it may contain.
---