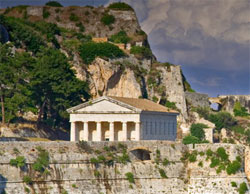 The Ionian Islands, an archipelago consisting of six main islands and several islets, are scattered off the western shore of mainland Greece. One of these islands is the legendary Ithaca, said to be the home of Odysseus. The bigger islands have modern resorts. Most of the smaller ones are uninhabited.

The Islands are green and peaceful, and experience much more rainfall than anywhere else in Greece. Tourists are drawn to the islands for their lovely beaches and their beautiful mountains. Moreover, there is the lure of archeological sites which trace the history of life on the Islands as far back as 1200 BC.
The most famous of the islands is Corfu, a tourist hotspot that is known for its beautiful sandy beaches and picturesque fishing villages.
The largest island is Kefalonia, which has pretty towns and villages with small luxury homes and ancient ruins. It has amazing beaches and geological formations, caves, and a glorious semi-underground lake. Kefalonia attracts many tourists, but it is not hard to find secluded areas.
Lefkada, which is connected to the mainland by a bridge, has plenty of bars, discos, and Greek and international restaurants. It is a good location for windsurfing, and has an old monastery and a stunning Venetian castle.
The island of Paxos is quiet and green and has a pretty village, Gaios. Most of its beaches are not sandy, but like the enchanting scenery these are all quite unspoilt.
Zakynthos has beautiful scenery and architecture, including a Venetian castle and many churches, plus cafés under the trees. Sea turtles are frequently seen on its sandy beaches.
Known as the Island of Aphrodite, the green island of Kithira draws the visitor with its sandy beaches and traditional Byzantine and Venetian buildings.
Ithaki or Ithaca, has splendid beaches and coves. Mostly mountainous, it has many fascinating caves and some sites associated with Odysseus. Some of the architecture here shows a Venetian influence, but most of the buildings are not much over 50 years old as the island was devastated by an earthquake in 1953.
Though tourism has been growing in most of the larger islands, the Ionian Islands have kept their traditional character and much of their natural beauty.
Corfu/Kerkyra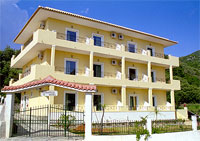 Corfu's gorgeous landscape—bright, sandy beaches, thick groves of fruit and olive trees, charming little fishing villages, pebbled coves, and cool springs and lagoons—have madeit the most visited and tourist-oriented island in the Ionian.

Its principal town, also called Corfu, is quite cosmopolitan. with international shops, cuisines, and a lively nightlife. There are sports facilities such as a golf course, one of the best in all of Greece, tennis courts, and riding clubs

Sidari is one of Corfu's most popular beach resorts. It has a large selection of posh hotels, villas, room rentals, and apartments. Bungalows are popular as vacation homes. Nearby, Canal D'Amour has beautiful coves that are never left unexplored.
The beaches of Agios Georgios are great for families with children.
The village of Paleokastritsa has six sand and pebble beaches surrounded by thick olive groves. There are several hotels, restaurants, bars, and tavernas In the area.
Large modern villas and spacious stone houses with swimming pools and gardens overlooking the sea are up on sale in Corfu's most exclusive areas. All features are designed for summer and winter occupancy. Some have direct access to a beach.
Ithaka
The island of Ithaka, home to Homer's Oddyseus, is lush and paradisiacal on the east and rather barren and steep on the west. It has beautiful shorelines and quaint fishing villages.
Charming red-roofed houses and some old, well-preserved buildings including an old fortress are part of the capital, Vathy. The town's sheltered bay is a port for yachts. Several hotels, taverns, bars, and clubs line the waterfront.
Modern housing and building designs are not allowed in Vathy. Traditional colours are also the rule. This strict regulation has been implemented since 1978.
Kefalonia
Kefalonia is a very popular destination and the biggest of the Ionian Islands. Mount Enos, its highest peak, is covered in rare black fir trees and overlooks the turquoise waters of the island's beaches.
Argostoli, the main harbour and Kefalonia's cosmopolitan capital, is backed by mountains and lush forests. It was rebuilt after being destroyed by a big earthquake that hit the island in 1953, and the modern architecture of many of its buildings is a lovely counterpoint to the classic beauty of the setting.
The quaint fishing village of Fiskardo has escaped the earthquake's destruction, thus many of its old houses remain standing. Skala has the largest resort on the island.
 
Argostoli
Argostoli, Kefalonia's capital, owes its modern planning to the earthquake that devastated much of the island in 1953. Most of the old Venetian buildings and traditional houses were destroyed. Tremendous thought was put into the town's renovation. Today, it is pleasant to stroll down the cobblestone streets past white and pastel houses, with the island's rich forests and high mountains in the distance.
The town's lovely square, Plateia Valianou, is its prominent feature, surrounded by restaurants and cafés. The cobbled Lithostroto is its bustling commercial street lined with many pretty shops and supermarkets that carry local products.
Visitors enter the city by passing over a bridge decorated by a small pyramid called Colona, put up in honour of the man who built the bridge.
Argostoli has a lovely coastal walkway lined with palm trees, tavernas, and trendy shops and cafés. Here stalls selling local produce are a common sight.
Argostoli has many nice hotels, villas, and apartments. Rentals are popular even on winters, since most of Argostoli's businesses continue to operate and welcome visitors. Argostoli, though, has no beach of its own.
Lefkada
Olive groves and fields of wild flowers grace Lefkada. Its east region is very fertile, while the west is rocky and steep. Beaches range from crowded, touristy resorts such as Porto Katsiki and Agios Ioannis to peaceful and relaxed ones such as Egremni and Kalamitsi. The most popular place on the island is the village of Nidri, the main tourist resort and a nightlife hotspot. Vassiliki is Lefkada's windsurfing centre.
Lefkada Town, the commercial centre, is a busy seaport full of tourists. Hotels and wooden houses built very close to each other line the narrow alleyways. Churches and archaeological museums welcome visitors.
Lefkada is known for its surrounding private islands owned by famous personalities.
Paxi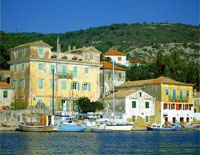 The small island of Paxi is one of the most beautiful islands in Greece. It is abundant in olive trees and its olive oil is the best in the country.

Logos is a fishing village with many seaside taverns. Lakka is touristy, but quieter than Gaios. It provides a safe harbour for yachts and is a great place to snorkel and windsurf.
Zakynthos
Pines, flowers, vineyards, and olive trees dominate the fertile plains of Zakynthos prefecture. Some of its beaches are important nesting sites for loggerhead sea turtles.
Zakynthos' capital town and port is Zakynthos, or Zante. Venetian, French, and English architecture was once a great feature of the place, before most of the old buildings were destroyed by an earthquake in 1953. The modern town has a large square, many arcades, and museums. The impressive Agios Dionysos church preserves the body of the town's patron saint. Its waterfront is the most crowded part of town, with many restaurants and souvenir shops.
---