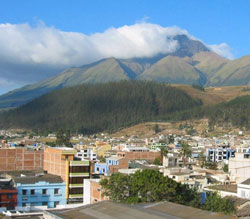 Imbabura, though named after its volcano, is known as the Land of Lakes due to these beautiful, pellucid bodies of water that dot the province.

The Cotacachi-Cayapas Ecological Reserve is in Imbabura. It is a rainforest with a lake and a great view of the Imbabura and Cotacachi volcanoes. The calm blue waters of Lake Cuicocha are perfect for fishing and sailing.

Not far from Ibarra, Imbabura's capital, is Lake Yahuarcocha (the name is Quichua for "Lake of Blood"; the area was the site of a massacre of the local populace by the Incas). It is surrounded by the well-known Autodromo car-racing track.

With its highly mineralized thermal baths, the ecological complex of Chachimbiro is also one of the well-visited attractions in Imbabura. The Afro-Ecuadorian community in Chota Valley safeguards its traditions—local folklore, lively music, handicrafts, wooden and straw houses. Imbabura also has many restaurants, bars, and clubs for tourists to check out.
Ibarra
The charming and quiet town of Ibarra is Imbabura's capital. The whitewashed façades of its colonial houses earned it the nickname "White City." Ibarra also has well-preserved churches from that era. One is the Santo Domingo Church, which has a museum of religious art.
Ibarra has a mild, pleasantly dry climate, perfect for strolling around the beautifully-preserved parks of the Plaza de la Merced and Plaza Pedro Moncayo while eating delicious local ice cream called paila, made from whipped real fruit.
A suburb of Ibarra, San Antonio, is considered the woodcarving capital of Ecuador. The craft has been handed down from generation to generation, and the skill and artistry of San Antonio's woodcarvers are without peer in the country. There are many galleries here that showcase and promote San Antonio's most famous craft.
Otavalo
Otavalo is not just an oft-visited destination for its green mountains and crystal-clear lakes. It also has the most colourful artisan market in the country. The Mercado de Otavalo in the Plaza de Ponchos every Saturday is the grand dame of South American indigenous marketplaces. Foreign and out-of-town shoppers converge on the famous crafts market that sells everything from colourful ponchos and alpaca sweaters to musical instruments and jewelry to meat and vegetables to woodwork and paintings.
Handicrafts of Otovalian provenance are prized all over the world, considered great examples of Amerindian art and culture.
---