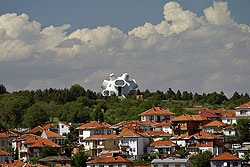 Located in the western part of the city, Ilinden is composed of four neighborhoods: Zaharna Fabrika, Gevgeliiski, Sveta Troitsa, and Ilinden.

Zaharna Fabrika, whose name means "sugar factory" after an old refinery that once stood here, is a residential quarter in northwest Sofia.

Many renovation projects are underway in Ilinden, including the rehabilitation of a chilren's playground.
---