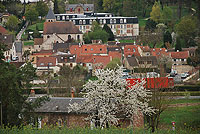 The Île-de-France is commonly known as Région Parisienne, as it is mainly occupied by the Paris aire urbaine (metropolitan area). It is the richest and most populated region of France.
Paris is famous for its beautiful and atmospheric cityscape, full of cultural attractions such as the Eiffel Tower, Cathedral of Notre Dame, the Royal Palace, the Louvre, Centre Georges Pompidou, and Champs-Elysées.
The Parisian surroundings offer such magnificent sights as the Château de Versailles, Fontainebleau, and Chartres Cathedral.
Many Paris districts, such as Montmartre and St-Germain, are excellent spots for casual strolling, shopping, and cafe-sitting.
Paris has a very active nightlife and offers something to suit every taste, from contemporary dance clubs to traditional cabaret shows at the Moulin Rouge.
---