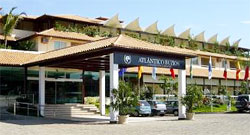 The middle-class residential neighbourhood of Humaitá sits at the foot of Corcovado Mountain. Its main attraction is the Espaço Cultural Sérgio Porto, a centre for the performance and presentation of film, dance, theatre, music and literature.

Humaitá's proximity to forest reserves and lakes makes it a popular destination for campers, hikers and other nature lovers.

Recently, the city designated an area known as Pólo Gastronômico within Humaitá and its neighbour, Botafogo. It takes up 15 blocks and covers several dozen restaurants, cafés, bars and other establishments dedicated to food and entertainment.
---