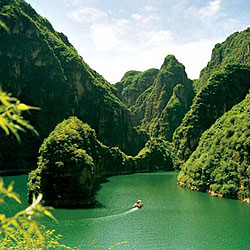 The mostly mountainous district of Huairou provides Beijing with walnuts, sweet pears, apricots and chestnuts. Being largely covered in forests and being an abundant water source, Huairou plays an important role in improving Beijing's ecosystem.

Huairou has its share of sights. There's Hong Luo Temple, on a mountain of the same name. There's the Great Wall of Mutianyu, where one can see a portion of the Great Wall of China. In the city, one can find a beautiful lake with both a walking and bike trail, with a pagoda magnificently keeping watch close by. Here one will also find a decent shopping centre, Da Shi Jie, a popular hang-out for Huairou's teens.

Residences in Huairou consist mostly of apartment buildings if one would like to live in the city proper, while actual houses can be found in outskirts of Huairou.
---