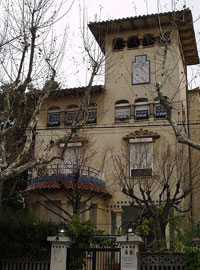 Horta-Guinardó is Barcelona's third largest district, with a population of 169,920 (2005 census). Horta-
Guinardo is hilly, and its streets are steep. Watercourses run through it, down from the Collserola mountains.
Housing here is mostly 1950s apartment blocks. Most other residential areas here were formerly shantytowns, and are still rather shabby.
The district's main asset is its many green areas. Especially of note is the neoclassical Parc del Laberint, with its 18th century maze. There's little other evidence of the area's past, other than the remains of the 14th century Monasterio de la Vall de Hebron.
The district also has an interesting piece of Modernista architecture in the major medical facility Hospital de Sant Pau.
Several Olympic venues were constructed in 1992, including tennis courts, football and rugby fields, and a swimming pool. The prestigious Teatre Lliure is also in Horta Guinardo.
---