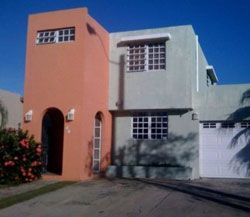 It is said that Hormigueros was given its name because its topography resembled a giant anthill (hormiguero). But the more religious residents of Hormigueros prefer to call their beloved town El Pueblo del Milagro. This is in reference to a legend about a peasant who was saved from being gored by a rampaging bull by the Nuestra Señora de la Monserrate. To commemorate the miracle, the Basilica Menor Nuestra Señora de la Monserrate was built in the town centre.

Hormigueros is known for its historic houses, which have been preserved by the National Register of Historic Places. These include Casa de los Peregrinos, which now serves as the Basilica's Rectory; Casa de Peon Caminero along Route 114, which was named after the railroad maintenance crews who once lived there; and Casa Marquez, which is a perfect representation of architecture in the 18th century.

Other notable landmarks in Hormigueros are the Centro Cultural Juanita Arenas, the Complejo Deportivo Hermanos Miura sports complex, and the Mausoleo Segundo Ruiz Belvis, tomb of the noted anti-slavery activist.
---