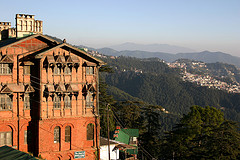 Himachal Pradesh (lit: the region of snowy mountains) is ranged upon the western Himalayas. Some parts of the state are 6 kilometres above the sea level, others much lower, making for great climatic diversity.

The south has a tropical climate, the northern and eastern mountain ranges have an alpine climate. The alpine areas are never hotter than 32 degrees Celsius, and often get snow in winter.
Parts of Himachal Pradesh look like Switzerland, with orchards and pine trees and broadleafed forests. Meadows and pastures cling to steep slopes, and after the winter season the hills bloom with wild flowers. Gladiolas, tulips, marigolds, carnations, roses, chrysanthemums, and lilies are cultivated, making Himachal Pradesh the flower basket of India.
Himachal Pradesh has India's 4th highest per capita income, its three main income-sources being hydroelectric power, tourism and agriculture. The population is almost entirely Hindu. In a 2005 Transparency International survey, Himachal Pradesh was ranked India's second-least corrupt state, after Kerala.
The rugged terrain long served to isolate Himachal Pradesh from neighbouring states. Traditional crafts are still practiced and Himachal Pradesh products are sought after, especially the pashmina shawls and Himachali caps.
Thanks to modern telecommunications, the state has changed dramatically in recent years into a cosmopolitan state, with many Indians from different ethnic and religious groups in its population.
Shimla
Shimla, the capital of Himachal Pradesh, is a popular tourist destination. This was British India's summer capital, and it is still a favoured summer retreat for locals and tourists, especially honeymooners. The British called it "Queen of Hills," a name which has stuck to this day.
Perched on the northwest Himalayas, Shimla is 2.13 km above sea level and is nestled in an evergreen forest. Temperatures are mild in summer, cold and snowy in winter. The British mock-Tudor and neo-gothic architecture is mostly well-preserved. The many temples are frequently visited by worshipers from neighbouring areas.
This city is colourful and very charming, with a cosmopolitan population. In the middle of the city, people hang out on the traffic-free Mall Road, lined with Victorian buildings, and at the popular viewing point, the Ridge. It has the oldest nine-hole golf course in India. Lower down its slopes, Shimla's character changes from British to Indian, with many Indian restaurants, plus bazaars that trade in local handicrafts.
---