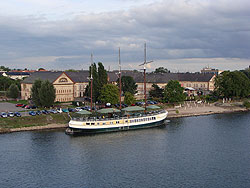 The vibrant state of Hesse is steeped in tradition, although it also has a highly cosmopolitan appeal. Its cities are rich in culture, and even smaller towns offer plenty of entertainment through their theatres, concert halls, dance troupes, and nightclubs. A great variety of architectural styles are represented not only in the cities but in the towns and villages.

Hesse has the largest forest among the states of Germany, with almost half of the state consisting of woody areas. Not far from the cities are lush, untouched forests, including the Odenwald, the Westerwald, the Taunus and the Vogelsberg. Hesse has idyllic scenery, lakes and rivers, moors and heather.
Hesse is a popular holiday destination, being a good place for hiking, cycling, and other outdoor activities. The Lahn River is good to cruise, as it passes some wonderful historic towns, like the baroque town of Weilburg and Limburg with glorious Romanesque Cathedral. Another landmark overlooking the river is the centuries-old Marburg Castle.
The state capital, of Hesse is Wiesbaden, which has had a long tradition as a spa town for royal families throughout Europe, and is now a renowned cultural centre. It has many historic buildings, centering on the baroque-style Wiesbaden Kurhaus where there are some restaurants, a casino, and Hesse's State Theatre. Nearby is the famous Wilhelmstrasse Boulevard, with its fashionable shops, charming cafés and outstanding antique stores. The most famous city in Hesse is one of the premiere business and financial centres in Germany, Frankfurt.
---