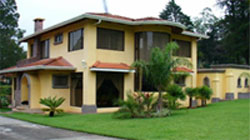 Thick pine forests, green scenic pastures, and coffee plantations cover the mountainous province of Heredia (a prime area). It enjoys a varied climate, and foreigners prefer the cooler, elevated sections of the province, which provide spectacular views of the city and the countryside.
Heredia, the capital city, is rich in colonial heritage. Spanish architecture survives at the heart of the city, including the Central Park, the church, and the museum. Heredia is known as the "City of Flowers", referring to the Flores family who figured prominently in politics here in the early 19th century.
The largely rural Heredia was a major player in the coffee industry during colonial times. The fertile slopes of the inactive Barva Volcano were the first to be cultivated. At present, the province has the farms of the premier roaster Café Britt in the town of Barva.
Barva Volcano, whose crater lake is beautifully surrounded by thick cloud forests, rests within the Braulio Carrillo National Park. Orchids and waterfalls enrich the beauty of this rainforest.
Heredia is experiencing growth in real estate. Gated communities that target foreign retirees have been built. The upscale Ciudad Cariari offers new homes in a country club setting.
Ciudad Cariari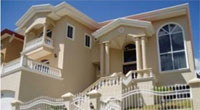 Large, beautiful homes and condominiums make up the gated communities of Ciudad Cariari. The high-end neighbourhood includes the Cariari Country Club, the oldest golf course in Costa Rica. Cariari, as it is simply called, sits between San José and Juan Santamaria International Airport.

Cariari has luxury hotels, entertainment centres, casinos, and restaurants. A large shopping mall, the family-oriented Real Cariari Mall and Cineplex, is situated across the highway.
Cariari also has the American International School, one of the best English language schools in the country.
The upscale neighbourhood of Los Arcos is right next Cariari, and is also a gated community with 24-hour security.
San Antonio de Belen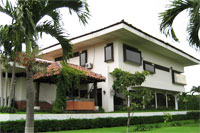 San Antonio de Belen is a prosperous and peaceful town surrounded by mountains, with a varied climate of hot mornings and cool nights. The town is close to the international airport, and has easy access to San José, Alajuela, and Heredia.