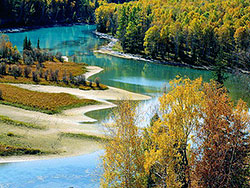 Heilongjian, which faces Russia from across the Heilongjian River, is an old industrial base, and many of its heavy industry enterprises are owned by the state. Its largest trading partner is Russia, and this province alone accounts for a fifth of China's total trade with its neighbour.

Heilongjian ranks first in China for the extent of farmed areas, because of its unusual rich black soil, which occurs in only 3 other countries. Its mechanized farming is highly productive. It exports grains, soybean and vegetables.  Stock breeding and dairy products are also important.

Heilongjian's economic development has been rapid. The provincial capital, Harbin, is a wonderfully eclectic city, with a mixture of Chinese and Russian influences apparent in the city's architecture. Wandering around the city, one runs into numerous churches of different denominations: Roman Catholic, Protestant and Easter Orthodox. Harbin is also Northeast China's economic, political and cultural centre.
---