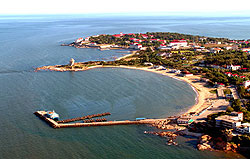 Hebei Province, which surrounds Beijing, is one of the birthplaces of the Chinese nation. Because it played such a large part in the country's history, the district is filled with reminders of the past, with numerous historic tombs, gardens and temples.

Both Eastern and Western Qing Tombs are found here, and they collectively hold the remains of 237 members of the imperial Qing family. This 80-square-kilometre gravesite is listed as a World Heritage Site.

Another important site is the Chengde Mountain Resort—the Qing Dynasty's Summer Palace. Completed over 89 years and covering 5.6 square kilometres, this resort and its outlying temples make up one of the world's largest imperial palace complexes, and it is considered the largest Chinese garden in North China.
It is a maze of palaces and temples, landscaped gardens and lakes, in various architectural styles. Another popular destination is the Zhaozhou Anji Bridge, noted not only as the oldest stone arch bridge in the nation, but an important example of civil engineering in pre-modern China.
It has a rich history of folk customs and folk art; it has rich traditions of porcelain-making and Chinese opera.
Hebei is the only province that incorporates a plateau, hills, plains, lake, and a seashore. Its coastline is 487.3 kilometres long, and it has a thriving marine industry; marine transport, marine tourism, marine oil and marine chemistry. Hebei's fertile soils are mineral-rich, with no less than 116 different types of minerals.
---