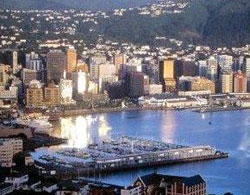 Hawke's Bay in North Island's east coast is composed of the districts of Central Hawke's Bay, Hastings, Napier City, Wairoa, and the towns of Taharu in Taupo District and Ngamatea in the Rangitikei District.

Among Hawke's Bay's natural attractions is the beautiful Te Mata Peak, a hill with glorious views of the region; the bird sanctuary and wildlife reserve, Lake Tutira Wildlife Refuge; and Te Angiangi Marine Reserve and its diversity of marine life. A popular spot is Cape Kidnappers, which has one of only two mainland colonies of gannets in the world.
A hill in Hawke's Bay is said to have the longest place name in the world: Taumatawhakatangihangakoauauotamateaturipukakapikimaungahoronukupokaiwhenuakitanatahu. It means, according to the plaque provided by the Guinness Book of World Records at the site, "the place where Tamatea, the man with the big knees, who slid, climbed and swallowed mountains, known as land-eater, played his flute to his loved one", and is usually shortened to Taumata.
Hawke's Bay's capital is Napier City. In 1931, a massive earthquake levelled the town and killed 162 people. The city underwent reconstruction not long after, and since this was the 1930s, the buildings were rebuilt in the styles that were in vogue at the time. The most prevalent style used was Art Deco. Today, Napier prides itself on its collection of Art Deco buildings, which draws visitors from all over the world. Many of the designs are unique to the place as well, as Maori motifs have been incorporated into the Art Deco.
Hawke's Bay has an abundance of fruit orchards and vineyards; they flourish, thanks to the region's rich soils and Mediterranean-style climate. It is even becoming quite famous for its wines—its Chardonnays, Cabernet Sauvignons, Merlots, Sauvignons Blanc, and Rieslings.
---