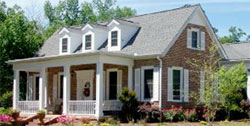 Halland is a small, narrow county on Sweden's western coast. It has considerable agricultural lands, though much of the county is situated by the coastline.

Halland's land gradually rises from the pristine coasts and white sand beaches in the south to high cliffs in the north. The Atran, Lagan, Nissan, and Viskan rivers flow through the county, making it a prime destination for salmon fishing, canoeing, sailing, and windsurfing.

Visiting Halland is not complete without a stop at the nature reserve Fjärås Bräcka, a huge gravel ridge that was carved out by retreating ice during the Ice Age. Within its territory are forests, remains of Stone Age settlements like the upright stones known as menhirs, the lovely Lyngern Lake, and colourful saxifrage in abundance.
---