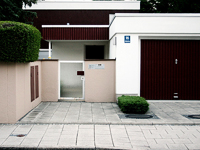 Hadern is a residential area with plenty of family houses and residential complexes, both old and new. It grew out of a village dating back to the 11th century. Several housing complexes here were built from 1945 to the 1980s.

Many of the residents of Hadern work in the Klinikum Großhadern, associated with the Ludwig Maximilians University of Munich, which is Munich's biggest hospital complex. There's also a children's centre and a home for the aged. There are also a few major industrial plants. The area has a smaller proportion of foreign residents than most parts of Munich.
Großhadern
Großhadern has remnants of its past as a farmers village, and is home to the vast Klinikum Großhadern.
---