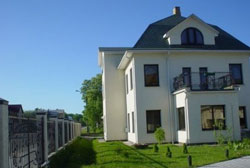 The Gulbene District lies in the Vidzeme region of Latvia, placing it in the northeastern section of the country. The district is made up of one city and 13 parishes. The district centre is the city of Gulbene.

The terrain of Gulbene is marshy and watery, and it once served as the nesting grounds of swans. (Gulbene is known in German as Schwanenburg, which means "swan city.") People have settled here going back to ancient times. Sometime in the 10th or 11th century, the people known as Latgallians set up a wooden hill-fort by the river Krustalīce. This early fortification was given the name Gulbana. In 1340, a stone castle was constructed on the hill-fort by order of the Archbishop of Riga; in time, a village grew up around the castle. However, the village and the castle were destroyed in 1577 by Russian attackers.
In the centuries after the attack, the site became an estate of the Baron Wolff and renamed Vecgulbene, or "old Gulbene." It was not until the early 20th century, with the development of a railway, that the site started to see growth once again. The year 1926 saw the construction of a new railway station, along with the establishment of the Gulbene Business and Industrial School. The population grew rapidly, with many railroad workers building homes in the area. By 1928, Gulbene had received town status and the return of its old name.
The Gulbene District is known for its beautiful trees and rock formations. In Daukstu village is found the Krusta Pine, whose massive trunk is carved with a variety of crosses. Situated close to a cemetery, the pine was where funeral guests once used to stop to drink vodka and carve a cross into the tree.
One of Gulbene's notable nature sites is the Pededzes Oaks Growth, a restricted botanical preserve. As its name implies, the area is full of oak trees, as well as ash, maple, and linden. The rich forest growth attracts many types of birds, including owls, black storks, eagles and woodpeckers, all of whom can nest peacefully in this protected site.
Gulbene has several state-protected standing stones, such as the Paideru Stone and the Robežkalnu Boulder in Lejasciems, the Pleķu stone in Galgauska, and the ancient Rožkalnu Raganas Stone. An important archeological monument, the Rožkalnu Raganas Stone was a place for witchcraft rituals and cult sacrifices up to the 19th century. To this day, many people avoid going near the stone, believing it to be haunted.
---