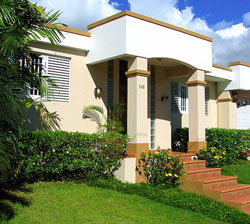 Guaynabo (a prime area), originally known as Caparra, was the first settlement founded by Juan Ponce de León on the island. Presently, the town is enjoying the benefits of an economic revitalization; of all the cities in Puerto Rico, Guaynabo has the highest per capita income.

The town is home to many upper class neighbourhoods, of which Garden Hills, Torrimar, San Patricio and Tintillo are the most noteworthy. To meet the demands of a growing upper-middle class population, a number of communities and neighbourhoods have been and are still being developed. Some of these are Parkville, Mallorca, Tierra Alta, and Mansiones de Guaynabo. High-rise condominiums are also being built. Guaynabo also has several private schools.
San Patricio Plaza, the first modern shopping mall in the Caribbean and Latin America, was built in Guaynabo in 1963. It has many high-fashion boutiques.
---