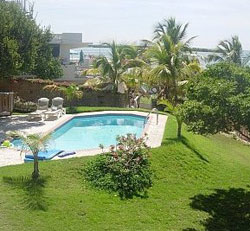 The coastal town of Guayanilla is the seat of manufacturing industries, specifically petrochemical manufacturing. It is also the source of over half of Puerto Rico's electricity through power that is being generated by its many thermoelectrical plants.

Guayanilla's main tourist draw is Guayanilla Bay, which is considered one of the best natural harbours in Puerto Rico. Beaches such as Emajagua, Ventana and Tamarindo provide hours of swimming fun and casual strolling and sunning along its sands. Other lovely natural features in Guayanilla are the Chorro de Oro Waterfall and the Cuevas del Convento. Interesting man-made sites are the Mario Mercado Castle and the Central Rufina Ruins.
Ancient Taino relics have also been unearthed in Guayanilla.
---