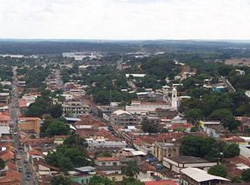 One usually enters the Central Plains through the state of Guarico. Its surroundings are typical of the Los Llanos—crops, cattle and rolling plains. It is one of the larger states in Venezuela and was named after the Guárico River that gushes through it.

Farming is fundamental in Guarico. Rice, corn, sorghum and cotton are some of the main crops. The state is also high in sulphate, which accounts for its many hot springs, believed to have healing powers. In the capital, San Juan de los Morros, the oddly shaped Arístides Rojas is a natural monument, a rare geological formation believed to have formed 80 million years ago. These and the numerous parks that encompass marshy lands, rushing rivers and picturesque plains are what attract visitors to come here.
A well-known historic place in Guarico is the city of Calabozo. It was the centre of military action during the War for Independence. Though many old buildings survive, it is more known today for its hot springs.
Culturally, Guarico's important contribution is the Baile del Joropo, the official dance that accompanies the national music, Joropo. One important religious event for the Guariqueños is the annual Wake of the Cross. Every 3rd of May, crosses embellished with flowers and fruits are displayed in public areas for prayer offerings.
The state is also known for its Pisillo Guariqueño, or sun-dried venison, beef or fish that is fried and then seasoned with sweet pepper and garlic.
---