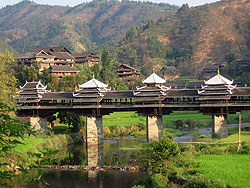 Guangxi has many mountains and hills. It attracts a large number of tourists year round, drawn to the province's majestic scenery. Its relatively short winters and long warm summers are good for agriculture, especially rice-growing.

Modernization started in Guangxi during the 1960s and 1970s, but seemed to slow down when the development boom rippled throughout China. It has only recently begun to pick up speed again. The town of Yangshuo is a tourist magnet, with its cafés, hostels and restaurants in the middle of gorgeous rural scenery.

Guangxi has a beautiful seaside. Its subtropical climate means warm, wet days almost the whole year round. Well-known products from this area include fine porcelain, bamboo and rich brocade textiles—beautiful products created by the province's minority groups.
---