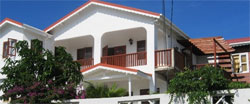 Gros Islet is the second most populated district in Saint Lucia after Castries. Its main town, Gros Islet, was recently promoted from village status. Tourists do not frequently visit, though when they do, they come in time for the jump-up—the town's Friday night parties. While some say the growing crowd at the jump-up has become slightly seedy of late, it is still a fun party to experience with a group of friends. When Saint Lucia was named one of the hosts of the 2007 Cricket World Cup, all seven of the matches played on the island were played here at the Beausejour Cricket Ground.

A big tourist draw in Gros Islet is the Pigeon Island National Historic Park. This is an historic area, beginning as the home of the Amerindians who first settled the island, then as a pirate hideout, and finally a military base—Fort Charlotte and Fort Rodney witnessed skirmishes between the British and the French in the 18th century. Today, the park makes for a great day of tranquil exploration as you scale the small hills and enjoy the gorgeous views of the island. A great time to visit is in May, when they hold their yearly Jazz Festival.
Cas en Bas
The prime mountainside property of Cas en Bas in Gros Islet is favoured for its awesome views of the Atlantic Ocean. Cas En Bas Beach is quite popular as well. One interesting sight there is an old rocket booster that had fallen from the sky years ago and landed on the beach. The area also has an 18-hole golf course and is quite close to the St. Lucia Golf and Country Club in Cap Estate.
Reduit Beach
Reduit Beach is a fine white sand beach with a marina. It is one of the most popular beaches in Saint Lucia, where beachgoers swim, snorkel and sunbathe, or hang out in the nearby bars and restaurants. The entrance to Rodney Bay is at one end of the beach. Rodney Bay and Reduit Beach are enclosed by the Pigeon Island National Historic Park jutting out in the north and Labrelotte Point in the south
---