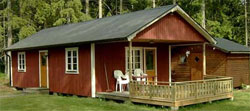 The largest island in the Baltic Sea, Gotland is a sprawling county with over a thousand farms that date back to the medieval period, and buildings that boast modern design and functionality. In recent years, there has been a real estate boom in Gotland.

The capital city of Visby by the coast is packed with people, especially during the summer. Visby has a vibrant and lively nightlife, though the activity is mostly for visitors. The residents usually vacation elsewhere, and rent their flats out when they're away. Many homes in Visby have magnificent views of the sea.

Visby's main feature is its fortress wall, which surrounds the city's well-preserved Old Town. Many of the buildings here are centuries old, dating back to the time when Visby was part of the Hanseatic League.
The rest of Gotland is also rich in medieval architecture. The county has 94 well-restored and active churches, all built in either the Romanesque or the Gothic style.
---