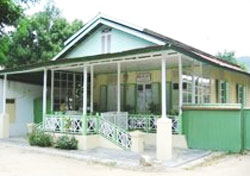 The mountainous province of Gorontalo is on the northern end of Sulawesi. It is a new province, established in December 2000. The capital, Gorontalo, is well-known for intricate Krawang embroidery. Travellers can visit the 14th century Fort Otonaha complex, which overlooks the sparkling waters of Lake Limboto.

Gorontalo's thick forest protects endangered birds and animals, such as the tarsier, the world's smallest primate, and the large black-and-white maleo bird. South of Gorontalo are small unsettled islands of white sand beaches.
Gorontalo City
Gorontalo is the second largest city in North Sulawesi and the capital of Gorontalo province. Three rivers flowing right through the city and out to the ocean give it a pleasant panoramic view.
Gorontalo is a friendly Muslim city where well-preserved colonial architecture can be found.
Whitewashed Dutch bungalows with verandas and wooden shutters adorn the city centre.
Lahilote Beach
About 6 kilometres south of Gorontalo is the white sand Lahilote Beach in Kota Selatan district. The beach is notable for its huge stone that resembles a human foot, which has an interesting local legend attached to it, told generation after generation.
Limboto Lake
Limboto Lake is the only natural lake in Gorontalo province. It is shallow and abounds in fish. It is also used for irrigation. It serves as a landing field for amphibian aircrafts. The lake is observed to be continuously contracting.
The small village of Iluta can be found at the lake's entrance.
---