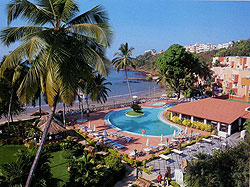 Goa is famous for its wonderful beaches and ancient architecture. Its Catholic Bom Jesus Basilica, which houses the remains of St. Francis Xavier, is a World Heritage Site.

Goa was also long an enclave of hippies, who came to smoke dope and have sex on its beaches. This easy-going culture blossomed into large-scale tourism, attracting a mixture of the international jet-set, cultural travelers, dope-heads, and backpackers.
Goa is warm and humid most of the year. The heat builds to a peak of over 35 degrees Celsius in May, but in early June the monsoon breaks, and the rains last till late September. From mid-December to February there is a brief cool season.
The Portugese dominated Goa for four hundred years, after Mughal rule. The architecture reflects this history. Some structures are purely Mughal in style, while a few temples blend Portuguese with Indian and Mughal styles. Indo-Portugese mansions can still be found, though mostly in poor condition. Fontainhas in Panaji, the official cultural quarter, is the best showcase of the unique architecture and culture of Goa. But most houses and other buildings in Goa these days are simple and modern.
There is a new architectural museum called Houses of Goa, an archaeological museum, and Big Foot at Loutolim, in which a traditional Goan setting is represented. There are art galleries as well.
There is a popular carnival in February. Throughout the year, there are classical Indian music and dance performances at an open-air auditorium.
Goa is known for its fish dishes. Many are elaborate, but fish curry is an everyday favourite. Coconut and coconut oil, vinegar, chili peppers and other spices are signature ingredients. Khatkhate, a vegetable stew, is a local specialty served during both Hindu and Christian celebrations.
Most Goans live in villages and commute to work. The villages are usually cleaner than the resort areas.
Panaji
Panaji is Goa's charming capital city, near the Marimar beach and by a riverbank. In many areas of this city there are low-rise buildings with red roofs. In its east side is Fontainhas, an Old Latin Quarter of sorts.
The Portuguese Baroque church, Our Lady of the Immaculate Conception, founded in 1541, is set in the Municipal Garden, also called Church Square. Panaji also boasts the reconstructed 16th century Adilshahi Palace, as well other historic buildings. The Kala Academy cultural centre is famous for its architecture as well as its cultural exhibits. For shopping, the bustling 18th June Road is a favourite among tourists and locals alike.
---