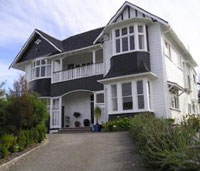 Situated in the northeastern corner of North Island is the Gisborne Region, also known as East Cape, East Coast, or Eastland. An isolated region, much of its population resides in the city of Gisborne and the towns of Tolaga Bay and Ruatoria. Other scattered settlements have populations that do not exceed 800. The region's population is predominantly Maori.

Thanks to its isolation, many Maori traditions have been preserved here, and its natural attractions are virtually unspoiled.
A sacred landmark in the region is Mount Hikurangi, the tallest non-volcanic mountain in New Zealand. It is the first point in the world where one can see the sunrise.
Gisborne is the home of several nature reserves, including Te Urewera National Park, Waioeka Scenic Reserve, and the Mahia Reserve, whose beach is a popular fishing, swimming and surfing spot.
The region is also noted for its collections of native flora at Eastwoodhill Arboretum and Hackfall's Arboretum. Way up north, in the small coastal town of Te Araroa, is New Zealand's oldest tree: a 600-year-old pohutukawa tree called Te Waha-o-Rerekohu.
Other places of interest in Gisborne are the lighthouse in Gisborne's East Cape and the ornate Maori church of St. Mary's in Tikitiki.
---