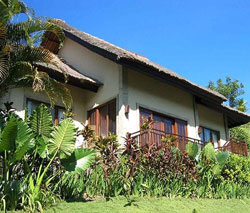 The regency of Gianyar (prime) is the second most populated in Bali after Badung. Rich in culture, it is not hard to see why Gianyar is full of natural inspirations - magical mountains and beautiful coastlines serving as constant muses for the artists in the area. It is believed that craft-making, music, dance and other genres of fine art were originally developed here. Well known for its rich artistic and religious traditions, Gianyar has become the home of many accomplished dancers and painters.
Unlike other areas in Bali where it is densely populated downtown, Gianyar's major attractions are the suburban areas. Places like Ubud, Sayan and Payangan village have many boutique hotels and other tourist facilities.
Batubulan village in Gianyar is one such place where art has become a way of life. It is a stone carving village, with skilled workman creating thousands of stone carvings in their workshops. Traditional dances such as the Barong and Keris dances can be seen here as well. Other talented villages include: Sukawati, Bona, Tegalalang and Mas.
In Sukawati there are places full of wares, paintings, clothes, woodcarvings, leather puppets, temple umbrellas and wind chimes. Sukawati is actually where many of the Bali's well known puppeteers live. It has thus become the production centre of these wayang kulit, leather puppets made of buffalo or cow hide.
Bona Village, once known for its glorious Kecak and Fire dance performances, is now the place to purchase wonderful furniture and handicrafts made from bamboo.
Tegalalang is full of creative and skilled craftsmen. So skilled are they that they can make almost anything tourist want using the various art materials they have on them.
Mas is a quiet village with a large filed and big shady banyan trees. It has become a popular stop for tourists looking for high quality, unpainted wood carvings made usually from sandal or crocodile wood. Galleries and workshops line the small lanes here.
Those looking for items easier to carrier home usually stop by Celuk, a small town known for crafting beautiful ikat textiles, typical cloth worn by the Balinese.
Gianyar has a lot of attractions, such as the temple complex of Goa Gajah. Constructed in the 11th century, it is the local temple of the Bedulu Village. It is a 7 meter deep cave carved from a solid stone hill full of other intricate carvings. Gunung Kawi Tampaksiring is another option for site seeing in Gianyar. It is an archaeological complex near the Pakerisanan River.
The water spring temple of Tirta Empul is here as well. Built in the 10th century, the springs that feed the three fountain complexes are locally believed to have been created by the god Indra. Each fountain complex has a special religious use. One for spiritual purification, another to cleanse from evil and the last is said to be an antidote for poison.
Ubud
The Ubud area has been an international village since the 1930's. It was once a great secret for backpackers, artists and bohemians. Now expatriates, foreign and even local artists visit the village, fall in love with its cultural as well as natural atmosphere and never leave. One of the biggest reasons why it is a huge tourist spot is because of the artists who showcase their work in the many art villages there.  
Ubud is made up of 14 smaller villages. Tourism continues to grow despite a drop back during 9/11 and the times of the Bali bombings. Because of this, Ubud has inevitably seen a lot of urban growth. Luckily, there are still many areas around Ubud that are relatively undisturbed.
Ubud is beautifully nestled between rice paddies and deep ravines and enjoys a cool climate. It has intricate old temples and palaces, cool rivers and a mix of luxury and budget accommodations. The hotels in the area have commanding views of Ayung River, great for water rafting. Ubud Monkey Forest nearby is a nature reserve that is home to long-tailed macaque monkeys.
There are many activities in Ubud: dance performances, temple festivals, people preparing for these festivals, colourful celebrations, and gamelan rehearsals, courses on Balinese dance and music and classes on cooking, wood carving, batik painting, shadow puppet and mask making.
Celuk Village
Celuk is a craftsmen's village known for gold and silver jewellery. While there are convenient showrooms lining the road, some artisans allow customers to see them at work in their backstreet workshops. Most of the jewellery are of average quality, but there are shops that offer good pieces.
Topeng masks and wayang kulit puppets are mass-produced in Celuk, for the benefit of tourists.
---