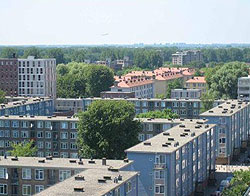 Geuzenveld-Slotermeer is close to Amsterdam's ring road, and its homes have the lowest values in the city. It's rather distant from the city centre. As with the other districts, the best way to make your way around it and to other parts of Amsterdam is by bus, tram or bicycle.

Geuzenveld/Slotermeer has 10 subdistricts. In each one there is at least one ongoing urban renewal project: the building or renovation of mid-rise apartment buildings, social housing. The more expensive houses are in places such as the Eendracht Park neighbourhood, the Van Tijen area and Noorderhof South.
The district's grounds are meticulously cared for: in Gardens West, cows graze in the meadows of a nature reserve. In Gerbrandy Park, also renovated recently, visitors can stroll in the flower garden, watch children play on the green, and have lunch on picnic tables.
---