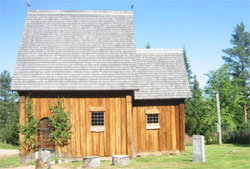 Gävleborg County, situated by the Baltic Sea coast, is made up of the provinces of Gästrikland, Hälsingland, and Dalarna.

The county capital is in Gästrikland. Gävle is a town with wide boulevards and beautiful parks, a small college, a theatre, and museums. It is proud of its industrial heritage, and is now home to more than 90,000 people.
Gästrikland is the gateway to pristine Norrland, the sparsely populated northern half of Sweden. It is also known as the Iron Kingdom, because of the production of iron. It has led the industry for centuries, and iron mills are still in existence in Sandviken and Hofors. Visitors are welcome to visit these iron mills during the summer.
Hälsingland possesses sparkling rivers and lakes, colourful valleys, rising mountains, thick forests, halsars and peninsulas, and an archipelago by its coastline.
Architecturally, Hälsingland also contributes to Sweden's rich history of design. Hålsingegårdar, traditional two- or three-storey farmhouses owned by affluent families, are in abundance. These houses are characterized by their large size and the ornate accents in the houses' interiors, many of which have not been altered in centuries.
---