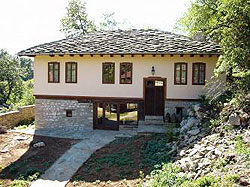 Gabrovo's mostly mountainous terrain is offset by river valleys. A scenic ride on the Ruse-Podkova railroad, connecting northern to southern Bulgaria, provides marvelous views of the majestic Balkan mountains.

Gabrovo has been inhabited since ancient times (relics from the Paleolithic age have been discovered in the Bacho Kiro Cave). There are medieval fortresses in the villages of Batoshevo and Gradnitza, and a multitude of National Revival-era monuments.

During the Revival heyday, Gabrovo was famed as a handicrafts centre, and the Tryavana Arts School was established there. The region's master builders, woodcarvers, and icon painters became known even beyond the Ottoman Empire, and their intricate works still stand in Tryavana. Gabrovo is also the birthplace of Bulgarian secular education, ushered in by the foundation of Aprilov's High School.
Economically, Gabrovo Province is mostly known for agriculture and stockbreeding.
Gabrovo City
The city of Gabrovo has two claims to fame: it is known as the Manchester of Bulgaria, and it is also celebrated as the country's capital of humour. The first is explained by Gabrovo's thriving leather products and textiles industry and the presence of numerous factories throughout the city.
The second is evident in the city's hosting the National Festival of Humour and Satire every May since 1972. During the festivities, street performances featuring masked actors, folk music, and cartoons liven up the town. Various exhibitions from the festival are also put on display, long after the festival is over, at the House of Humour and Satire. The people of Gabrovo have also been good sports about being the butt of Bulgarian community jokes.
And for some variety, locals would also advise visits to the Bozhentsi architectural reserve and the Etara Ethnographic Complex, which features old Bulgarian trades being practiced.
The winter resort of Uzana is only 22 kilometres away from Gabrovo. Hikers and nature lovers should visit the Central Balkan National Park, a wide protected territory comprising nine nature reserves that provide sanctuary to hundreds of plant and animal species, many of them rare and endangered.
The imposing Shipka Monastery marks an important event in Bulgarian history—the country's liberation from the Ottoman Empire in the late 19th century. The elegant structure with its beautiful gilded icons and intricate carvings are a monument to the country's victory, and its construction was fully funded by the Bulgarian people with help from the Russians. It remains today not only a place of worship, but also as a solemn reminder of Bulgaria's freedom.
---